College's New Website Boosts
Enrollment Applications by 82%
Carroll University
Carroll University, a private liberal arts university in Wisconsin, needed a website to drive enrollment, support current students and boost alumni engagement. Ascedia delivered an award-winning website that boosted Carroll's numbers. Find out more.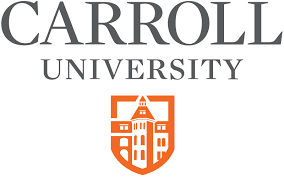 The Challenge
Despite having three clear target audiences (prospective students, current students, and alumni), Carroll did not have clear website user journeys for each group. They had an overwhelming volume of content, and visitors would get lost in a maze of links with no way to navigate back. Carroll also struggled with website management. Different departments owned and managed their own content, which resulted in a disparate brand experience across the site. Lastly, they needed a way to capture leads in a single system.
Strategic Planning
With UX consulting, we defined user personas and organized all of Carroll's web content into clear user journeys. To ensure visitors were only served relevant information (and not going down a content rabbit hole) we developed navigational paths based on the persona accessing the website, starting with the home page which clearly labeled each persona's starting point.
Implementation
Knowing that Carroll had multiple web administrators, moved them to Kentico EMS for its intuitive and customizable features. Every administrator could drag and drop templated widgets to build new pages. This preserves their branding and user experience across the website. Kentico EMS also easily integrated with third-party tools that administrators wanted to continue using.
Post-Launch Support
We developed the site according to WCAG AA Compliance standards, which was paramount in the higher education industry. At the end of the project, we provided Carroll's marketing team with a comprehensive training guide for new users and tips to troubleshoot common issues.
Results
Carroll University's has renewed confidence in directing users to their website. In a YoY comparison since launch, the University has experienced the following results from off-campus sources:

82% Increase in Applications Submitted
21% Increase in Average Time Spent on The Website
168% Increase in The Page Views in the Academics Section
104% Increase in PDF Downloads
5% Increase in The Number of New Users Generated from Organic Search Traffic
7% Decrease in Bounce Rate
2017 Kentico Education and Career Site of the Year
2017 Kentico Education and Career Site of the Year
Highlights
Increase in Page Views for Targeted Pages
Increase in Organic New Users
Increase in PDF Downloads